Dear Mr. Dubrul,
I just want to email you to give a not very quick story of how people cared for me at the Automaster. I have never bought a car before. I wanted to buy one, but I didn't have anyone to come with me. A friend helped me to go on the website, and we found some used cars in my price range. She suggested I just call the Automaster and take a look at some of the vehicles we saw on the website.
              When I called, I spoke to someone whose voice over the phone reassured me and put me at my ease. This person was not rushed, was very calm, and didn't make me feel scared that I was setting up a meeting where I would feel pressured in any way. I think this first phone call was the most important part of my interactions with the salespeople at the Automaster, and this person was just the person I needed to speak to. I felt so at ease that I didn't hesitate to make my appointment - I otherwise might not have gone through with making the appointment at all. I was pretty sure I had reached the exact person I needed to talk to.
              When I arrived at my appointment the following afternoon, I had had a very long day at work and didn't feel up to test driving any cars. I was too nervous from my day at work to drive a vehicle that wasn't mine. The person I was working with said that was absolutely okay. He said I could come back the next day. He also told me he had just gotten a 3-year old Honda Fit that very day, and suggested I take a look at it, as it was sitting right outside the window. That is the car I ended up buying.
              The next day, he worked with me to get my credit report in, which I did not get to him right on time. He never made me feel bad or scared that he was going to give the Honda Fit that he had recommended to me to somebody else. That was on my mind.
              I made him run my financial numbers at least 3 times with at least three different down payment amounts. He never complained, either. I called and asked questions I didn't need to ask and he answered them all with patience.
              When it was time to buy the car, I arrived without auto insurance - cuz I don't know what I was doing. When someone told me I needed it, I felt the energy from the donut and chai latte that I had decided to have for lunch fail me. I was ready to go home. The person I worked with tucked me under his wing, figuratively, and sat down with me at his desk and waited while I spoke with an insurance agent on the phone, answering questions from two insurance salespeople that made no sense whatsoever. I think he agreed secretly.
              The day ended with both of us exhausted and I still didn't have insurance. Nonetheless, he said it was okay, and it was. He had gotten me started and I was able to do the rest on my own the following morning. The following afternoon, I returned again to the Automaster, this time to drive the car home. I think it took me at least an hour longer than they told me it would, because I couldn't make up my mind. In the end, I was helped by three very kind people, and left feeling very happy and very blessed with how the whole thing turned out. I drove the car home smiling and telling myself I was a lucky person.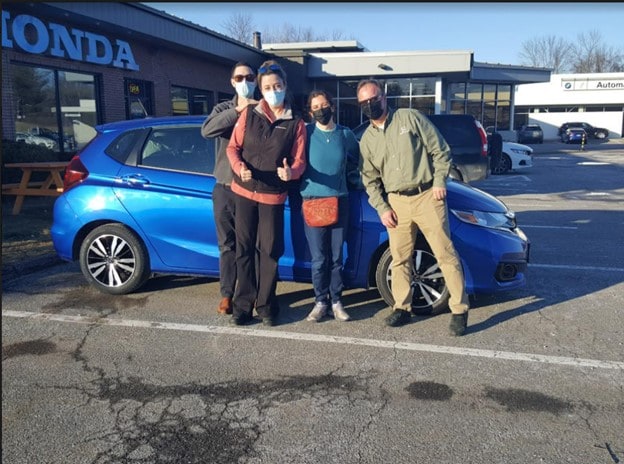 I know that Covid has been hard, and a shuttle driver who had given me a ride to the Automaster during this experience told me that you have worked very hard to keep the staff on, in spite of the difficult times. Therefore, I want to share with you what your staff are like from the customer experience. I particularly want to thank the three people whom I worked with, who made this important step in my life as good as it possibly could have been.
Sincerely,
Elizabeth